23c Bluebird Dauphine prototypes and pre production models

support this site, join ebay HERE

>

Many of you will remember the 23c Bluebird Dauphine that was sold on ebay in March 2013. It had been repainted white, the towing hitch was broken off, and the door was missing.
But it was fitted with windows so it caught the eye of collectors everywhere simply because Bluebird Dauphines are known to have been planned to have windows fitted because the castings have rivets cast into the roof to hold the windows in place. But at the last minute and for whatever reason Lesney decided not to fit the window so none or very few have ever been found.
In fact in 30+ years of collecting the nearest I have come to seeing one is from a grainy photograph in a now defunct collectors magazine, So despite the poor condition of the repainted model it still sold for an incredible 1000 UK pounds.

So you can imagine my amazement when shortly after the auction ended I was contacted by a chap who for the time being wishes to remain anonymous. He was claiming to have no less than three of these incredibly rare Caravans, and he claimed that they were all different!
So late in May 2013 we arranged a meeting and he very kindly allowed me to photograph them for the website. But before going into details I asked how they had come into his possession,
Apparently some years ago he purchased a small collection of Models of Yesteryear. When he went to the sellers house to collect them the old gent that was selling them said "oh you might as well take these as well" and with that he tossed the three caravans in to the box containing the yesteryears.
They sat in his loft for many years and he only realised that they were special when he saw how much the repainted model sold for.

I was asked to estimate the caravan's value but as you know putting a pricetag on something as rare as these is practically impossible as they can't really be valued until they are sold, but I did guestimate at between one and four thousand pounds each.
The caravans are not for sale at the moment but may be sold at a later date. They all have crimped axles and slightly larger 10x20 grey plastic wheels. They are all early castings with thin window frames and the colours are identical to the regular production models.
The owner also has a broken-in-half Kingsize model that came with them and looking at the condition of the caravans makes me wonder if they were not tested to destruction at the Lesney factory in order to find out if there were any defects or weak points in the castings but this is purely speculation.
I would like to thank the owner and his charming wife for their kind hospitality and on behalf of Matchbox toy collectors everywhere thank them for allowing me to photograph them and share their good fortune with us.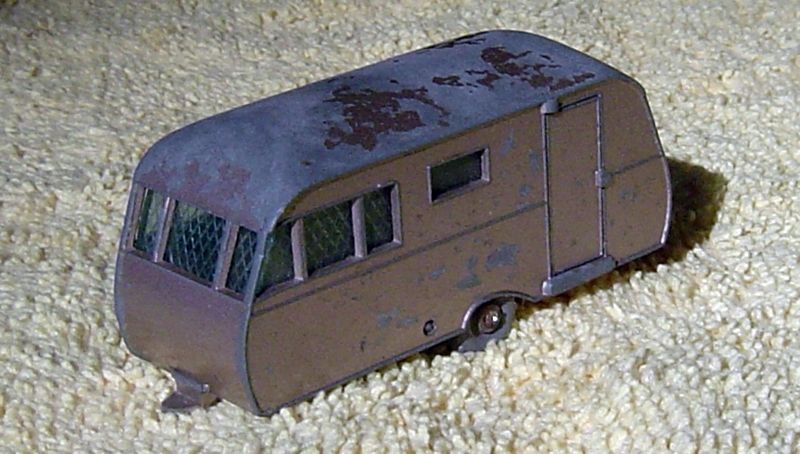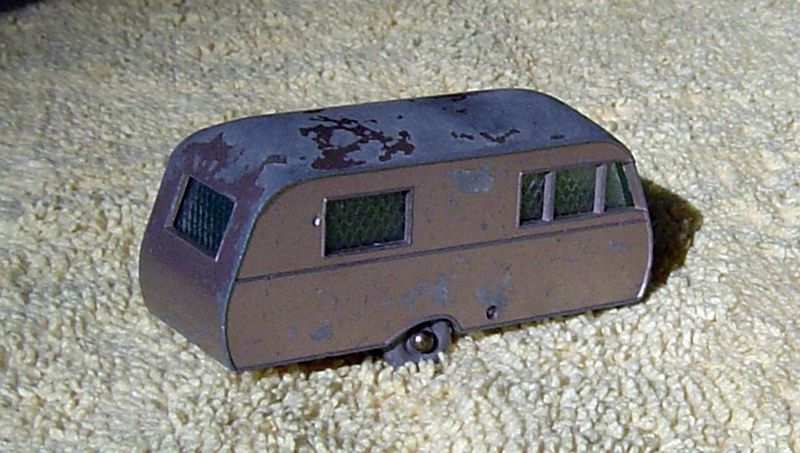 As can be seen, The first caravan is exactly the same as the one that sold on ebay. But this one is still in its original colours and it still has its door attached,
The axle is crimped and the wheels are the slightly larger than usual 10x20 grey plastic and it is the exact same casting and colour as the regular production model. I estimated it would be worth at least as much as the repainted & broken model but as it is in reasonable condition it could easily sell for twice as much.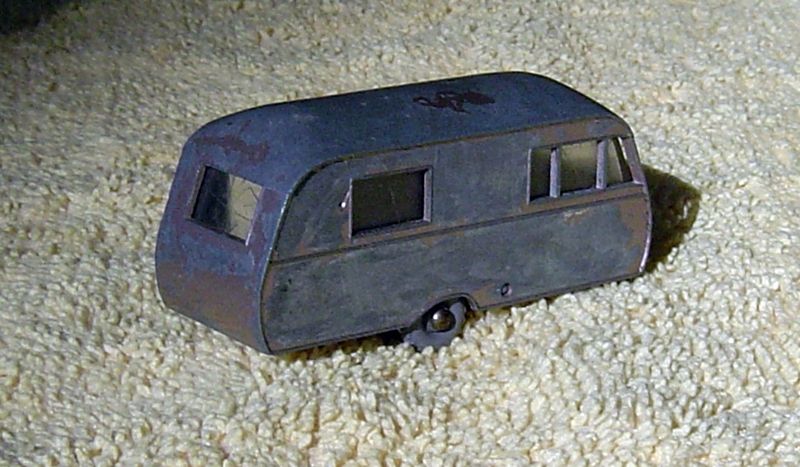 The second caravan is in a worse shape as it has lost more of it's paint and the door has long gone. But what makes this unusual is the window unit is smooth. It does not have the leaded lights or cross hatching engraved as on the other models.
To my knowledge it is the first one to be recorded with this type of windows. Again this one is the standard thin window frame and it is fitted with larger 10x20 grey plastic wheels on crimped axles and the colour is the standard metallic mauve.
Sadly the plastic roof insert has a piece broken off but the break can't be seen unless you remove the baseplate. My estimate for this one is between one and two thousand but it could easily sell for twice as much on the day.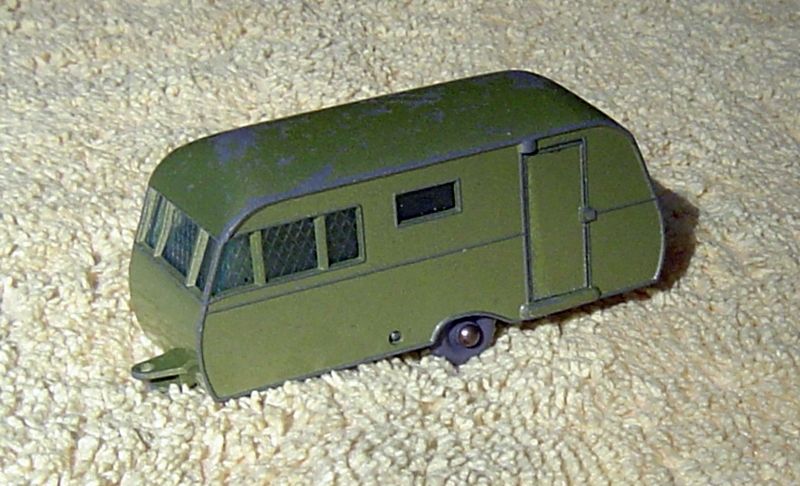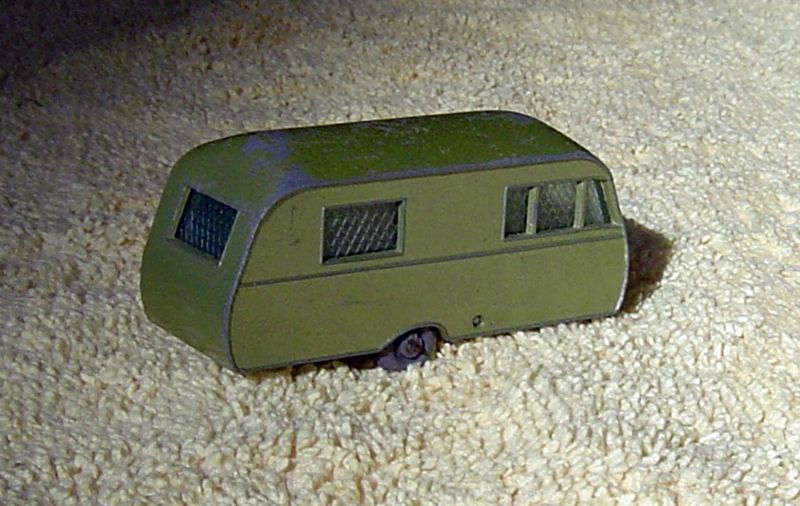 For obvious reasons this one had to be my favourite. Not only is it complete and in much better condition but it is in the pretty rare colour of metallic green which makes it extremely desirable. The towing hitch is unbroken and the leaded light window unit is complete.
Again, it has the same slightly larger than normal 10x20 grey plastic wheels fitted to crimped axles and it is an early casting with thin window frames and I'm pretty sure it has to be the first time that the metallic green version has been recorded with windows.
My estimate for this one is between two and four thousand but even this figure could be passed if there were two wealthy collectors that wanted it badly enough.


support this site, join ebay HERE

>



Of course I had to take some of my 23c's along for a family reunion. Did you ever see a display like this?