Husky / Corgi Juniors by Mettoy
#13a Guy Warrior Sand Truck





The Guy Warrior joined the Husky range from the late in 1964 - the pre-pro yellow colour is known from promotional photos.
The 13A first release was yellow like the pre-pro and had a tan plastic sand load however aside from colours it is identical to the 10A Guy Warrior coal truck released a couple of months earlier. There was one obvious casting change, the cab rear corner windows were glazed on early production but filled in or flashed over about the time when blue recolour was issued so some yellow examples have filled in rear corner windows but only the earliest blue production can be found with open rear corner windows.
Standard small 9x2mm gray plastic wheels were fitted to all yellow examples made and many blue issues too. In 1969 when all solid gray plastic wheels were being phased out, 11x2mm black plastic tyres dished on one side for a plated inserted hubcap improved the looks of the subsequent blue production runs of coal trucks with Husky baseplates, blanked with Corgi Juniors stickers baseplates and moulded Corgi Juniors chromed baseplates. Smooth dished diecast metal hubs with plastic tyres were fitted to some of the Corgi Juniors examples when the hubcap wheels were out of stock, the final even darker blue painted non Whizzwheels Juniors version certainly had them.
This model was converted to Whizzwheels with a new redesigned black plastic baseplate and red bodies in the same shade as the final 10A coal trucks were used for these. All issues had blue tinted windows fitted.
All yellow and many blue Husky issues were packed in standard red top Husky models blisterpacks .Yellow Husky blister packs were used for the final blue Husky issues in 1969.
All Corgi Juniors issues were packed in collector picture card blisters without WHIZZWHEELS branding except for the final Whizzwheels issues which seem to have stopped production by the time Collector cards were phased out in 1973.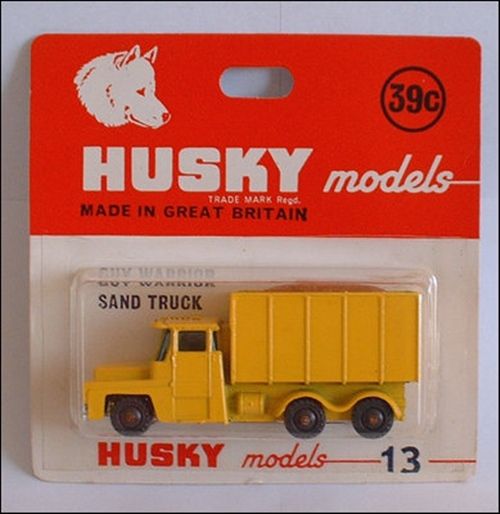 Above: Yellow with grey plastic wheels and corner windows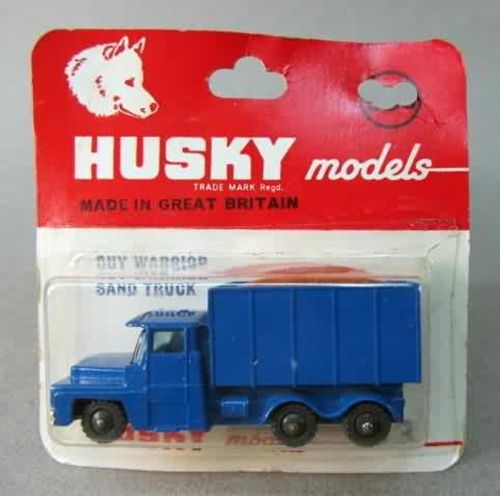 Above: Blue with grey plastic wheels and no corner windows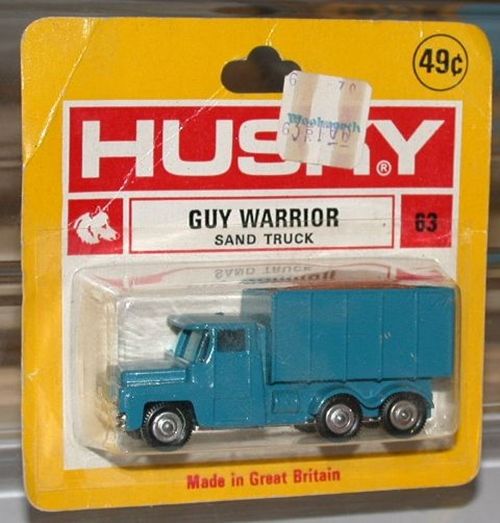 Above: Blue with diecast wheels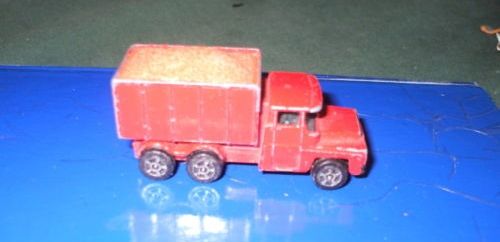 Above: Red with whizzwheels
| | | | | |
| --- | --- | --- | --- | --- |
| code number | body colour | cab corner windows | base colour + type | wheels |
| code 1 | yellow | yes | chrome Husky | solid grey plastic |
| code 2 | yellow | no | chrome Husky | solid grey plastic |
| code 3 | blue | yes | chrome Husky | solid grey plastic |
| code 4 | blue | no | chrome Husky | solid grey plastic |
| code 5 | blue | no | chrome Husky | grey plastic with hubcap |
| code 6 | blue | no | chrome Husky + Juniors sticker | grey plastic with hubcap |
| code 7 | darker blue | no | chrome Husky + Juniors sticker | diecast hub with tyre |
| code 8 | blue | no | molded Juniors base | diecast hub with tyre |
| code 8 | red | no | black plastic baseplate | 5 slot Whizzwheels |
Values based on Vectis + ebay actual selling prices.
prices for mint models in blister pack, the value for uncarded models is approximately 1/3
all yellow issues - £20-£25
all blue issues - £20-£25
all red issues - £20-£25